More coverage at YNN.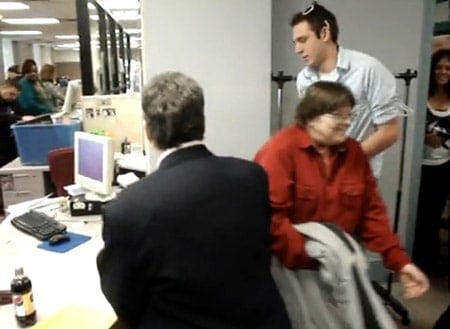 Kitty Lambert and her longtime partner Cheryl attempted to apply for a marriage license yesterday in Buffalo, New York. When she was denied, she turned to the crowd:
"With news cameras rolling, Kitty then turned to the crowd and asked for any male who would be willing to get married to her. A gay man named Ed stepped forward and volunteered. They briefly exchanged information and presented the appropriate documents along with $40. City staff verified the information, and proceeded to give them a marriage license.Kitty's point in approaching the City Clerk for a marriage license is that there is no religious basis for marriage, and it serves only as a legally binding contract in our society. Instead of being offered the ability to receive a license with her long-term partner, she was able to secure a license with a virtual stranger, strictly based on their gender."
Watch, AFTER THE JUMP…
You may have missed….
Watch: Orlando Performance Artist Brian Feldman to Marry Total Stranger in Marriage Equality Protest [tr]