Gay Toronto mayoral candidate George Smitherman and his husband Christopher Peloso have been approved to adopt a 14-month-old boy, the Toronto Star reports: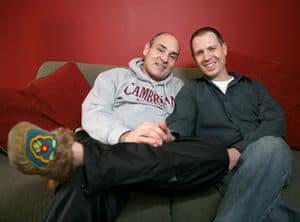 "No other details on the boy have been released.
'Christopher and I are very proud to share the news,' Smitherman said in a statement Sunday. 'Despite our overwhelming joy at the prospect of being parents to a beautiful baby boy, we must ask for your complete cooperation in respecting our privacy and the important legal process that governs our potential adoption.'
Smitherman stressed that under Ontario law, adoption is not finalized until the completion of a 'carefully planned process.' The process allows prospective parents to begin a relationship with the child and will take at least six months.
'Until that time, our adoption is not official,' Smitherman said. 'I look forward to sharing more details when I am able.' Smitherman is Ontario's first openly gay MPP and married businessman Peloso in 2007, 13 years after the pair met and two years after they began dating.
Nicknamed 'Furious George' for his aggressive political style, Smitherman has served as Ontario's deputy premier, health minister and energy minister before resigning in November to run for mayor."