Sirius radio personality Howard Stern is rumored to be in talks with American Idol producers to take over for Simon Cowell, Page Six reports: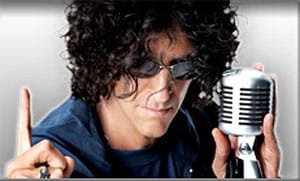 "An insider said that producers of the hit Fox show say Stern, America's
highest-paid radio personality, is their top choice to take over from
Cowell, who leaves at the end of this season. They approached the King
of All Media after he repeatedly mentioned on-air that his exclusive
Sirius XM Radio deal expires next January and he was open to other
offers. Cowell was paid $50 million a year…But a second source told us Stern hasn't made the "Idol" talks
easy, and has been giving out mixed messages about his intentions. 'Despite what he's been saying on-air, Howard isn't ready to leave
radio and would like to stay on at Sirius,' the source said. 'We believe
this is a ploy to make Sirius pay up and keep him on his huge contract.
But if Sirius can't pay him the money he wants, he may negotiate to
film 'Idol' on the side.' Stern is also believed to be
reluctant to commit to a show that would require him to tour the US as a
judge and spend much of the year in Los Angeles."