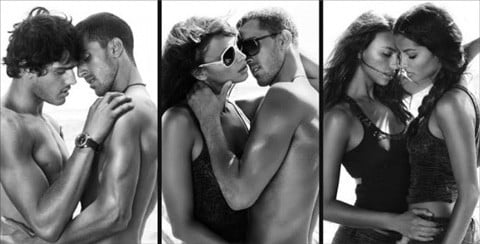 A group called One Million Moms (which is a project of the American Family Association), is protesting a Valentine's Day campaign by Armani Exchange featuring three sets of couples showing affection to one another.
Writes the group: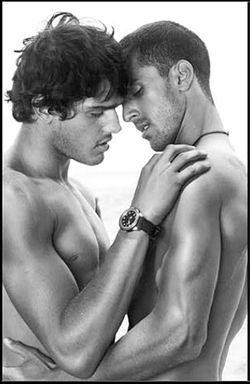 "Malls, where teens hang out, have retailers whose window displays poison our children with 10-foot posters that are nothing but soft p*rn. In particular, Armani Exchange has recently displayed Valentine's posters with partially dressed 'couples' holding one another. These couples consist of two men, a man and woman, and two women. The women are scantily dressed while it is questionable if the men have any clothes on at all. Two of these models are used a couple of times to represent bis*xuals. If it could get any worse the text written is 'SHARE THE LOVE.'"
Sharing love! How…horrible!!!!
The group has begun a letter and phone campaign.
Fox4 Kansas City reported on the campaign.
Clucked Phillip Cosby of the National Coalition for the Protection of Children and Families: "It is not just commercialism and unfortunately it is predatory in its nature. If people are offended by those ads they can go to their local prosecutor and file a complaint for promotion of obsenity to a minor."
Watch their report, AFTER THE JUMP…