On Monday, I posted about another reported arrest of a 60-year-old gay man in Malawi.
That's been confirmed: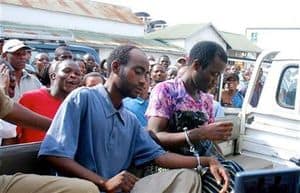 "'Yes, we have arrested one Mr. Tony Chirwa after a complaint that he sodomised a young man,' police spokesman Dave Chingwalu confirmed to PANA on Monday.
Chingwalu said Chirwa, an artisan at a weaving company in the city, has been staying alone and reportedly lured the 23-year-old man, whose identities police would not disclose, to his house.
'He asked the young man to undress and he sodomised him and the young man reported the incident to police,' said Chingwalu.
A medical report, tendered before the Blantyre Chief Resident Magistrates Court, indicated that traces of semen were found on the young man."
Of course, what may have happened here is a thinly-veiled sting operation.
A 'witch hunt' is intensifying in the nation: 
"Chingwalu disclosed that police investigations had uncovered a network of high-profile people who are involved homosexual acts.
'Some are white expatriates, some are priests, while others are university lecturers,' he said.
Chingwalu, who could not disclose members of the network since – according to him – investigations are still underway, said the noose was slowly tightening on them 'and we will arrest them all.'
…  Chingwalu said the network of homosexuals was procuring 'unnatural sex' from mainly street kids and other vulnerable Malawians who are lured with promises of money or employment as house boys.
'We know many innocent poor Malawians are being sodomised but cannot come out because these people are taking advantage of their vulnerability because of poverty,' he said."
The Guardian reports: "Campaigners in Malawi say homophobic legislation is driving gays and lesbians underground, making them hard to reach with information that could protect them from Aids. 'In Malawi it's a complete witch-hunt that denies the people the right to self-determination,' said Phumi Mtetwa, executive director of the Lesbian and Gay Equality Project, based in South Africa. 'We are deeply concerned about this spate of homophobia across the continent.'
Mtetwa said the recent series of incidents was no accident but rather the work of US evangelical Christian groups. 'It's very well calculated. It's exploding at the moment but it's been happening for a year and a half. We have proof of American evangelical churches driving the religious fundamentalism in Uganda.'"