In a new post over at HRC, which for all intents and purposes includes nothing that we haven't heard before regarding their strategy on "Don't Ask, Don't Tell" and certainly nothing that addresses the confusion and lack of leadership from the top on the issue, the group lays out some "key principles" that will be guiding their work over the next few months.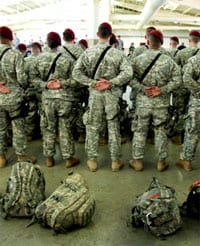 How about, as Michelangelo Signorile has suggested on his radio show, an open letter to Obama outlining the LGBT community's concern over the lack of a clear path to repeal?
Or, as the Palm Center's Nathaniel Frank suggested in his Huffington Post piece yesterday, a clear demand to the President that the DADT repeal must appear in the 2011 Department of Defense Authorization bill backed up with some real stakes if it is not.
As Frank said: "One reasonable option would be to publicly tell the President that it will not endorse him for re-election if he does not secure repeal in his first term, a promise that Press Secretary Robert Gibbs said he believed the President would keep.
Now, even Barney Frank, who earlier this month suggested that the DADT repeal would be on a parallel track timeline with Gates' military "study", has admitted that Obama needs to be pressured to instruct Congress:
"Asked whether President Obama has provided Congress with a clear path on moving forward with repeal, Frank said the White House has been 'muddled about when we should move.' … 'I do hope in the next couple weeks, he'll make it clear that he wants us to act this year as well legislatively,' he said."
The Human Rights Campaign, as the LGBT's most powerful advocate with the most direct line to the White House, needs to make it more clear to the LGBT community and Obama, beyond the backstage meetings that they keep promising us they are having, that they will accept nothing less than repeal this year.
This morning, Signorile posted audio of a $250/month donor to HRC who was pulling out because of the group's inaction on this issue, and says he took calls from many people similarly angry.
HRC, from all reports I've received, is downplaying the effects of the recent blog swarm and criticism against them.
OF course, right now the group is busy preparing for a big GALA weekend in Raleigh with an Art, Restaurant and Bar Crawl, dance party, narrated Segway tour of the city, and Drag Queen Bingo contest.
Let's hope they're also listening.