Senator Joe Lieberman tells Jamie Kirchik at the New York Daily News that he'll be the chief sponsor of legislation to repeal the military's 'Don't Ask, Don't Tell' policy: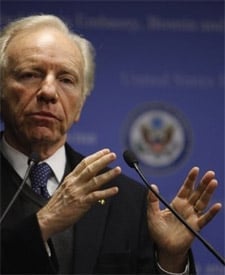 "My own experience as a member of the Armed Services Committee, visiting our troops on bases here in this country and abroad, particularly in war zones, the most remarkable quality you'll find is unit cohesion," he told me. "What matters is not the gender of the other person in your unit or the color or the religion or in this case the sexual orientation. It's whether that person is a good soldier you can depend on. And that's why I think it's going to work…I see this as an extension, the next step of the civil rights movement."
Kirchick adds: "The reasons why Lieberman, who was asked by the White House and gay rights groups to sponsor the legislation, would choose this battle are not hard to divine. Indeed, they strike at the heart of the political tradition of which he is the lonely standard-bearer: Social progressivism married with foreign policy hawkishness…"
The road to success on DADT is still considered to be as part of a Defense Dept. authorization bill and not as a stand-alone bill.
SLDN lauded the announcement and made a suggestion: "To strengthen the prospects for the repeal of the "Don't Ask, Don't Tell" law and to reduce political risk, the President can still order the Pentagon to include "Set End-date / Delayed Implementation" repeal language in one of the legislative policy transmittals that will soon be sent to the House and Senate Armed Services Committees by the Department of Defense. These policy proposal packages serve as indications of White House and Pentagon support for policy changes to be included in the next National Defense Authorization Act."