Following the arrest of an activist last week for putting up gay rights posters on street poles, a Malawi government official has called on others to "come out in the open," the BBC reports.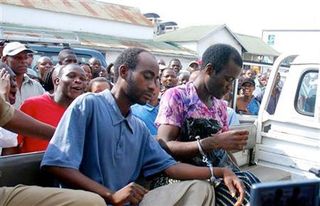 And what's the incentive for doing so? Be arrested for homosexuality, thrown in jail, and put in physical danger by angry mobs.
"Government official Kingsley Namakhwa said it was against the law to mount such campaigns anonymously.
But he also pointed out that homosexuality was illegal, and anyone promoting it would be prosecuted…'As far as the Malawi government is concerned we only have two gays
in Malawi – Steven Monjeza and Tiwonge Chimbalanga,' said Mr Namakhwa. 'If
there are others, let them come out in the open.' The BBC's
Raphael Tenthani, in the main city Blantyre, says the police have
intensified the hunt for a man who they believe is behind a gay-rights
campaign. It follows the conviction of a 21-year-old man for
pasting gay-rights posters on poles along the streets."
So what has happened to the gay activist who was arrested? "Sawali was sentenced to community service for his crime – our
correspondent says his punishment is to clean the premises of Blantyre
Magistrates Court for 60 days."