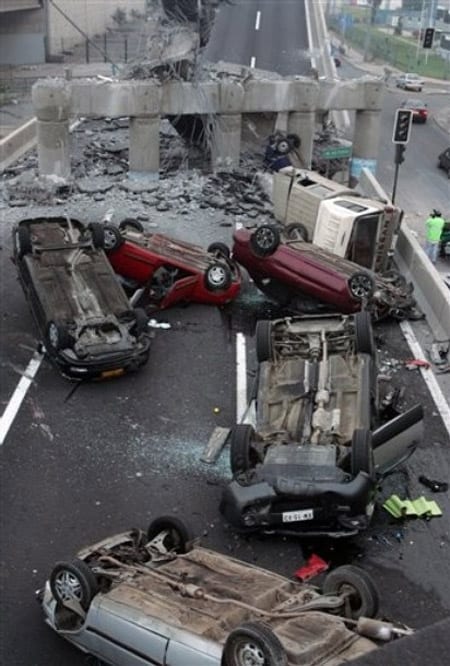 Above, cars overturned after a freeway collapsed near Santiago.
A magnitude 8.8 earthquake struck Chile overnight, causing untold damage. The death toll is at 78 , and climbing: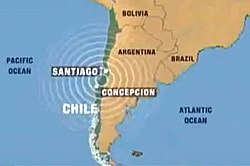 "The earthquake, which hit just after 3 a.m. local time, was 64 times stronger than the one that devestated Haiti last month but was much deeper, likely making the number of casualities far fewer than those in the Caribbean nation.The minute-and-a-half-long quake was less than 100 miles north from the southwest coastal city of Concepcion, the second-largest city in Chile, but caused damage as far away as the capital Santiago nearly 200 miles away."
A 'State of Catastrophe' has been declared.
A tsunami warning has been issued for Easter Island and Hawaii. Expected arrival time in Hawaii would be 11:19 am HST.
Tsunami advisories have also been issued for the California coast.
You can watch coverage from Chile on UStream here.
ABC News adds: "The buildings in Chile are constructed to earthquake standards and therefore can sustain more of a jolt than those in other places.'Everything is still standing,' said [tourist Ronald] Scott. 'The only things that are not broken were not nailed down in the house.'Elliot Yamin, a former contestant on 'American Idol,' had just finished performing at a music festival in Vina Del Mar, Chile, when he said the 'rumbling started.''At first, it was more of a kind of swaying back and forth and then it was a really fast kind of shaking,' said Yamin.In a sixth-floor hotel room, Yamin said he quickly moved to a doorway and then the hallway, and eventually got out of the building safely. Still, Yamin said he feared for his life."
Tsunami map below. Watch MSNBC's report, AFTER THE JUMP…