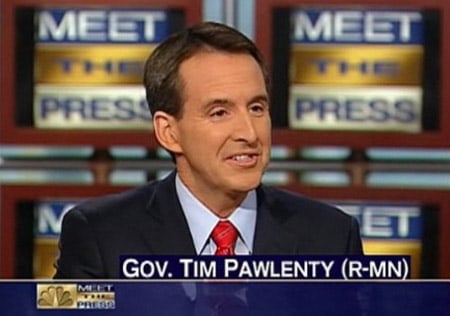 Minnesota Governor Tim Pawlenty, a potential GOP candidate for President in 2012, appeared on Meet the Press this morning and was asked briefly about "Don't Ask, Don't Tell".
MR. GREGORY: What about "don't ask, don't tell"? Should it be repealed?
GOV. PAWLENTY: I support "don't ask, don't tell." And, you know anecdotally–I saw the general's comments in response to that. Anecdotally, I know there's still a great number, a great portion of the military community that is concerned about that. They believe "don't ask, don't tell" worked. If it's not broke, don't fix it–or if it's not, it's not in need of fixing, you don't need to repair it. So I'd leave it alone.
Apparently Pawlenty's a fan of Elaine Donnelly's bigoted wingnut brigade.