Hearings on three pro-marriage equality bills that some activists had criticized as "show hearings" (because the bills aren't expected to leave committee) were held today at the Minnesota Capitol: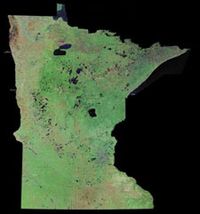 "A proposal introduced by Rep. Joe Mullery, DFL-Minneapolis, would allow two consenting adults to enter into 'civil union contracts,' regardless of their gender. Another bill, put forth by Rep. Ryan Winkler, DFL-Golden Valley, would recognize same-sex marriages performed in other states as legally valid in Minnesota.
But the most far-reaching legislation would legalize gay marriage by removing gender-based terminology in existing state statute. The measure was introduced by Rep. Phyllis Kahn, DFL-Minneapolis, more than a year ago and has 22 other Democratic co-sponsors. Kahn noted in advocating for the bill that she's probably been married longer than any other current legislator at the Capitol."
The hearings were the first-ever in Minnesota on legalizing same-sex marriage: "It is uncertain whether there will be any vote at all on gay marriage this year in the Minnesota House or Senate. Some opponents questioned whether social bills are important this year considering all the work that needs to be done on the budget."
Watch some brief footage from the hearings here.