Sports blogger, author, and UMass professor emerita Pat Griffin reports that the NCAA's website is running ads (current ad pictured here) for anti-gay, anti-choice evangelical organization Focus on the Family, and has approved airtime for them on CBS during the upcoming tournament.
Writes Griffin: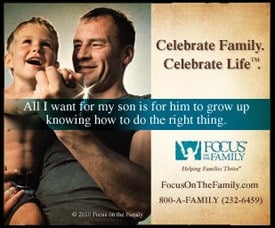 "Ok, we endured the Focus on the Family…Tebow anti-abortion ad during the Super Bowl (along with a lot of other ads demeaning women). But now, NCAA.com, is also carrying a banner ad for Focus on the Family. I hear that CBS, the network that brought us the Focus on the Family Super Bowl ad, is also covering the Men's NCAA Tournament, and plan to air these ads throughout the tournament with the complete complicity, consent and support of the NCAA."
The ad deal is not confirmed, but the report is troubling, considering, as Griffin also notes, "The NCAA is the most prominent national governing body for intercollegiate athletics for women and men. The NCAA constitutional principles include an explicit prohibition on discrimination based on sexual orientation."
Call NCAA Public Relations – 317 917 6762
Call NCAA Main Number – 317 917 6222
Email NCAA Public Relations – pmr@ncaa.org
A Facebook group has been started by Sean Chapin urging the NCAA to drop its relationship with FoF. Join it here.
(via outsports)