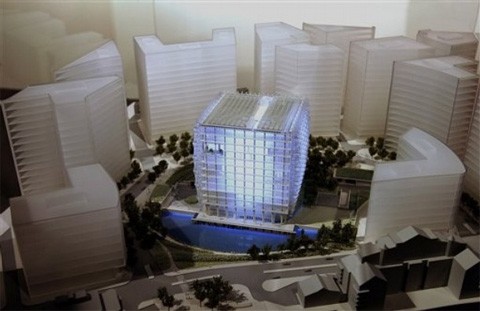 The winning design for the new U.S. Embassy in London has been unveiled:
"The U.S. State Department has increased security at its embassies across the world in the past decade, but efforts to increase security at its historic embassy in London led to a protracted battle with the building's neighbors, according to The Times of London. Consequently, the U.S. is building a $1 billion new, high-security facility in a less dense part of London.
The 12-story building, designed by Philadelphia-based architecture firm Kieran Timberlake, will use its surrounding natural setting to protect it from potential terrorist threats — a meadow, woodland and a moat will buffer the embassy the main road."
It's also in a new location: "While the Grosvenor Square embassy is near expensive restaurants and boutiques, the new building will be in the Nine Elms area of Wandsworth, a district 'under transition,' according to the AP. The Times described the site as 'known for its gay clubs.'"
The complex is projected to cost $1 billion.