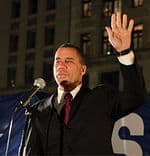 The NY Daily News reports that NY Governor David Paterson will drop his election bid:
"Embattled Gov. Paterson has pulled the plug on his bid to seek reelection, a source close to the governor said Friday.
Paterson will announce the decision later Friday.
Paterson has been under fire for having contacted a woman who accused one of his top aides of domestic violence.
The source said the governor has agreed not to seek election, but he will not resign – opting to serve out the remainder of his term."
And the NYT story that led to this decision, if you missed it.