Mardi Gras from Keith Loutit on Vimeo.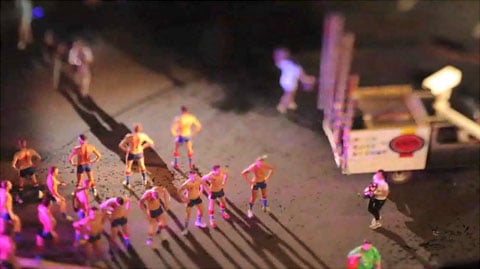 A gay group is warning visitors to Sydney for the annual Gay & Lesbian Mardi Gras to be wary of other visitors in town with intentions other than fun: 
"The AIDS Council of NSW said gay hate crimes sharply increase in the lead-up to and on the night of the Mardi Gras parade, which is being held this weekend.National research from the Australian Research Centre in Sex, Health & Society also indicates that while many people who watch the parade are supportive of the GLBT community, some spectators see the parade as an opportunity to experience something 'strange and bizarre' and use the event to reinforce their negative attitudes towards homosexuals. ACON said the research was supported by reports of verbal and physical violence reported by the GLBT community to its Anti Violence Project."
NYC's trans nightlife icon Amanda Lepore will be leading this year's parade, which takes place this Saturday.
The still at the top of this post is taken from Keith Loutit's tilt-shift time-lapse of last year's parade, which I posted here previously.
Watch it again, AFTER THE JUMP…