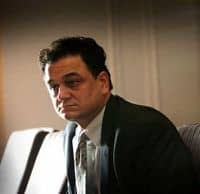 Gordon Fox today became Rhode Island's first openly gay House Speaker, the AP reports: 
"The Democrat from Providence received votes Thursday from 51 of the 75 lawmakers in the House. Democrats nominated him during an earlier closed-door caucus.
The 48-year-old lawyer previously served as House majority leader. He replaces former House Speaker William Murphy, who will continue to represent his district until the legislative session ends early next year. Fox announced he was gay in 2004 during a Statehouse rally in support of gay marriage."