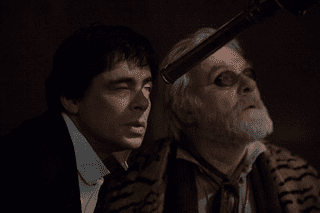 In one exposition sequence after that lengthy pre-furry Benicio first act, Sir
Talbot warns his son away from obsessing over painful memories. "The past is a wilderness
of horrors" he says. It's too bad the film doesn't heed this warning. Why
this movie needed so much back-story — there's more to come in
flashback form — when all the director seems engaged by is the lunar savagery is a mystery.
The mysteries multiply. Why is the film so lethargic even as it races through a ton of plot? Why is literally every "scare" moment cheaply scored with ear-blasting gotcha cues? Why is Lawrence a famous stage actor when it adds nothing to the story? Why is Benicio so unbelievable playing a famous actor when he actually is a famous actor? Why is Emily Blunt taking this so seriously when her co-stars can't be bothered to take it seriously or play it for camp? If The Wolfman is taking the Gothic Epic approach, why doesn't the film risk more operatic indulgence (like, say, Bram Stoker's Dracula)? Why did the filmmakers choose to shoot their dark haired actors swathed in expensive looking black costumes on dark sets with next to little light? How is sleepy eyed Del Toro expected to stay awake when there's no light?
Best Actress
Emily Blunt, also in theaters as THE YOUNG VICTORIA was probably in the dread sixth spot for an Oscar nomination this year. So instead of basking in Oscar glory, she's onscreen running from Benicio. (Here comes the most awkward segue-way ever! Ready?) Once Benicio has gobbled her up, which actual Best Actress nominee would he sniff out next? I'm guessing Sandra Bullock since that hairdo requires chemical maintenance.



The Academy generally goes for only a few types of acting stories here: old pro, biopic and breakouts being are among the most common types and all are represented here. Tilda Swinton in Julia has my vote for best of the year. But her film made only $65,000 in theatrical release as opposed to the $77 million average the other actress vehicles took in. No cash means no campaign no Oscar.
The Best Actress Nominees
Sandra Bullock, The Blind Side
Helen Mirren, The Last Station
Carey Mulligan, An Education
Gabby Sidibe, Precious
Meryl Streep, Julie & Julia
Common wisdom has it that this is now Bullock's to lose with Streep, as ever, as spoiler. Streep has been in the #2 position so many times now one wonders what she'll have to do to finally win another. Bullock has that edge of that all important feverish media backing. She's also got the advantage of carrying a blockbuster in a year when the Academy is widely considered to be trying harder for populism. Mark Harris in a singularly terrific New York Magazine piece on the politics behind Oscar season smartly identifies the embedded narrative of their respective campaigns, calling them "Who'da Thunk It?" (Bullock) and "There Is Now Way on God's Green Earth That This Woman Should Have Fewer Best Actress Oscars Than Hilary Swank" (Streep).
Which woman are you rooting for on March 7th or would you chuck them both to hand the coveted prize to one of the young breakout stars instead?