The first "Don't Ask, Don't Tell" hearing took place today around noon, and featured testimony from Joint Chiefs Chair Mike Mullen and Defense Secretary Robert Gates, who, as expected, announced that a year-long study into the repeal would begin.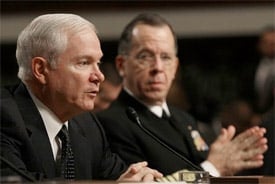 Gates indicated that a Washington Post story indicating that the military would ease on discharges provoked by outings by third parties was not correct. Gates said that additional study needed to be undertaken before that could happen.
Chairman of the Joint Chiefs Admiral Mike Mullen offered this opening statement:
"Mr. Chairman, speaking for myself and myself only, it is my personal
and professional belief that allowing homosexuals to serve openly would
be the right thing to do. No matter how I look at the
issue, I cannot escape being troubled by the fact that we have in place a
policy which forces young men and women to lie about who they are in
order to defend their fellow citizens. For me, it comes down to
integrity — theirs as individuals and ours as an institution. I also believe the great young men and women of our military can
and would accommodate such a change. I never
underestimate their ability to adapt. That there will be some disruption in the force I cannot deny. That there will be legal, social and perhaps even
infrastructure changes to be made certainly seem plausible. We would all
like to have a better handle on these types of concerns. And that is
what our review will offer."
Gates announced his one-year review, with its findings in the form of
an implementation plan to be submitted by the end of 2010. The working
group would 1) reach out to the force for their views and concerns, 2)
look at changes to DoD regulations and policies (such as benefits,
housing, fraternization, etc.), 3) look at military effectiveness (unit
cohesion, retention). He will also ask the RAND Corporation to update
their study of the impact on gays in the military. Responding to why
this would take a year, Gates said, "When you take into account the
overriding imperative to get this right, it is clear we must proceed in a
manner that allows for a thorough examination of all issues."

Gates also announced that, within 45 days, he would recommend
changes, within existing law, "to enforce policy in a more fair manner."
He believes that there is a "degree of latitude" within existing law,
similar to what
was widely reported today, to reduce instances where a service
member is outed by a third party with the intent to harm his or her
career. He cautioned that "It's a little more complicated than Wapo
conveyed," however, and he would not state support (or opposition) to a
moratorium on discharges of gay and lesbian service members during the
year-long assessment.
Here are some additional notes that I took:
John McCain whipped out the widely criticized letter put together by kooky Elaine Donnelly at the 'Center for Military Readiness' signed by the 1,000 retired military officers that she hunted down to join her bigoted crusade.

McCain kept selling his letter, repeating "a thousand, a thousand" while telling Gates that his assessment was "clearly biased" since it presumes the law should be changed.

Sen. Udall said he wants assurance of finality in the assessment. Gates said once the study was complete, if they found it proper to move forward, it would take another year to implement.

Mullen was briefly stumped by Senator Claire McCaskill who asked how the military planned to incorporate the input of gay and lesbian servicemembers into its study if they aren't allowed to identify themselves as gay or lesbian?
Regarding the year-long assessment, the AP reports: "Pentagon counsel Jeh Johnson and Gen. Carter Ham, who leads Army forces
in Europe, will conduct the yearlong assessment…Gen. Ham is a former enlisted infantryman who rose through the ranks
to eventually command troops in northern Iraq in 2004 and hold senior
positions within the Joint Staff. Recently, he helped conduct an
investigation into the shootings by a soldier at the Fort Hood Army base
in Texas. As the Pentagon's top legal counsel, Johnson has played an integral
role into the effort to try to close the military prison in Guantanamo
Bay, Cuba."
There was certainly more than this in the hearing. You can watch it all here.