Top football players in the UK refused to take part in an anti-homophobia campaign for fear of humiliation by fellow players: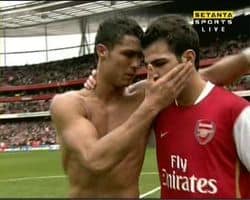 "The PFA was hopeful that some of the Premier League's stars would put their names and faces forward to support the campaign. But the Independent claims that the PFA have been unable to persuade anyone to take part.
The newspaper reports that players feared being ridiculed by both opposition players and supporters for appearing in the video, and being subjected to taunts and chants.
The Football Association eventually produced a generic 'viral' anti-homophobic video at the start of this week but now that has been pulled pending a full review of the entire campaign."
Pretty pathetic.
You may have missed…
Watch: UK Football Association's Anti-Homophobia PSA [tr]