Yesterday I posted about Ugandan pastor and Rick Warren buddy Martin Ssempa's gay porn screening in church, which he had to scare up support for the "kill the gays" bill.
Activists want Ssempa arrested: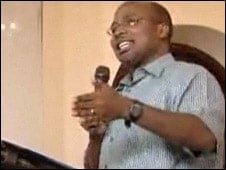 "'He (Pastor Martin Ssempa) should be arrested because he is promoting pornography,' said Julian Pepe, the leader of gay and lesbian rights group Sexual Minorities Uganda.
'The fact that he showed this film to people below 18 years means he has committed a crime.'
But Ssempa defended showing the pornographic film to more than 300 people in his church on the outskirts of Kampala. 'If you promote homosexuality, you are bringing a curse,' he said. 'Uganda is in the process of debating legislation against homosexuality but you need to give information to the people so that they know the behaviour that will be regulated.'
He added: 'We are not going to stop there, but will move to parliament to show the same film.'"
Said Nthateng Mhlambiso, from the African gay rights group Behind the Mask: "Showing pornography in church in the presence of minors is twisted homophobic propaganda, where homosexuality is equated to paedophilia and pornography. It is not surprising, but rather disappointing, that in Africa in the 21st Century yet again discrimination and prejudice is legitimised through religion."