UPDATED
BBC broadcaster Ray Gosling, who spent last night in jail after police held him for confessing to killing a lover suffering from AIDS on a documentary program Monday night, is being held for further questioning today.
UPDATE: Gosling released on bail.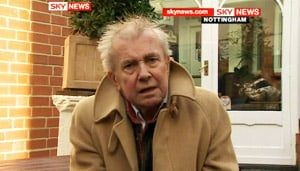 The Guardian: "Police have searched several properties, including Gosling's home in a Nottingham sheltered housing complex, but Gosling has not been charged.The questioning could be extended until Sunday morning, but Gosling's solicitor, Digby Johnson, said he hoped his client would be released, possibly on police bail, much sooner. Johnson said the last 24 hours in custody had 'taken its toll' on Gosling, although he was being well looked after. He is understood to be standing firm by his resolution to withhold from the police the name of the victim, where he killed him and when – 'even under torture'.Police are today understood to be interviewing at least one of his friends who knew him at the time of the killing. Yesterday it emerged that friends had known for more than a decade that Gosling had killed his dying lover.Gosling had claimed to have kept the killing secret, but close friends have revealed he confided in a small number of confidants them. They did not tell police because they considered the actions he described to be assisted suicide."
It's understood that Gosling, who is 70, killed the man approximately 20 years ago.
Gosling talks further about the incident, AFTER THE JUMP…