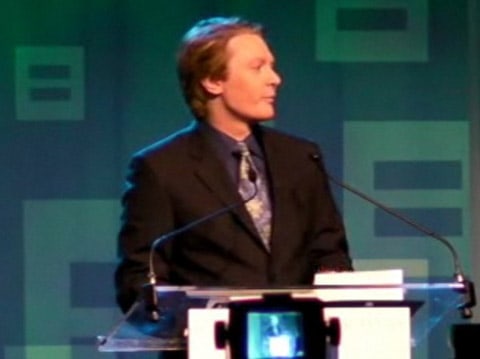 Durham, North Carolina-native Pam Spaulding has a full report on the HRC Carolinas Gala held last night in Raleigh, NC. Clay Aiken and Meredith Baxter were the celebrity guests on hand. Also there was Staff Sgt. Eric Alva, the first marine wounded in Iraq.
And despite signals from the White House and elsewhere that suggest otherwise, HRC President Joe Solmonese promised 'Don't Ask, Don't Tell' would be repealed this year.
Their speeches, AFTER THE JUMP…
Visit Pam's House Blend for her thorough coverage of the evening.
Writes Pam: "The celebratory mood here was kind of interesting, since the one thing that could be focused on (other than reaching fundraising goals) is that hate crimes legislation was passed at the federal level. Alas there is so much more to be done. Joni Madison, COO of McKinney Advertising in Durham was one of the effusive HRC Carolinas co-chairs, along with Robert Dogans and Maddy Goss. Oy they speak too quickly.Did you know that the Carolinas gala is the second-largest fundraiser for HRC nationwide. When I see the room filled with so many people who clearly feel committed to LGBT equality at this gala, it is the kind of support that state and local organizations need to see as well. Equality NC, btw, had a fantastic turnout at its annual gala as well. Our LGBTs do turn out for this kind of event."