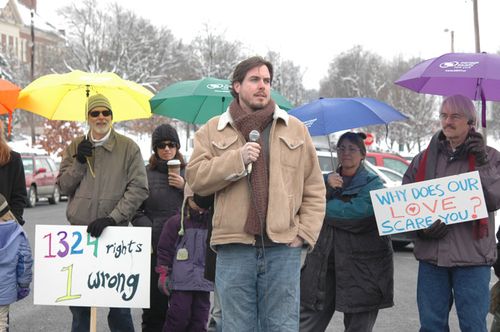 Towleroad reader Jay Blotcher writes in:
"On February 27, the sixth anniversary of the historic New Paltz weddings, marriage equality activists gathered in Peace Park in New Paltz, the site of the original 2004 event, to hold a rally. (The 25 marriages performed that day were later annulled by the state.) Former Mayor Jason West (center) spoke about his ongoing dedication to obtaining equal recognition for all same-sex couples in America. Also speaking were Cathy Marino-Thomas, board president of Marriage Equality New York and Jeff Baltes, board member of the Hudson Valley LGBTQ Community Center. A statement by Sen. Tom Duane (D-NY) was also read, assuring people that he would again introduce a marriage equality bill in the State Senate." (photo credit: Kelly Merchant)
Blotcher was one of those married by West in 2004.
Said West at the ceremony: "It has been frustrating that New York is so far behind some of even our neighboring states in recognizing marriage equality. But, I still believe, as I did six years ago, that it's just a matter of time. This is inevitable."