A court has ruled that the state of New York can annul a civil union entered into by lesbian couple Audrey Juanita Dickerson and Sonya Denise Thompson in Vermont in 2003: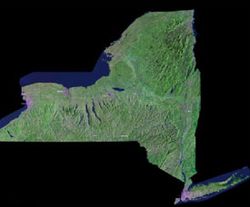 "Three years after their union, the couple separated and Dickerson went to Vermont to get the civil union annulled, only to be told she needed to live in the state for a year before she could apply for an annulment.
In 2008, Dickerson sought an annulment from Schenectady County-based state Supreme Court. Judge Vincent Reilly Jr. denied her request, noting the state has no legal framework to recognize a legal relationship between same-sex partners or to dissolve such unions.
Dickerson appealed to the five-judge Appellate Division, which unanimously ruled Thursday that New York courts have jurisdiction to annul a civil union formed in another state."
Said the ruling, which cited a measure by the state legislature to make same-sex spouses of 9/11 victims eligible for benefits: "Today, the public policy of our state protects same-sex couples in a myriad of ways. Two provisions of the Public Health Law define a domestic partner to include one who is 'formally a party in a domestic partnership or similar relationship with the other person, entered into pursuant to the laws of the United States or of any state, local or foreign jurisdiction.'"