While 'Don't Ask, Don't Tell' is an unjust policy in and of itself, it's particularly unjust when someone playing by the military's rules is outed by a third party and discharged because of it. In Sergeant Jene Newsome's case, the third party was the Rapid City, South Dakota police, who happened to see an Iowa marriage certificate at her home after showing up with a warrant for her wife, who was wanted for theft in Alaska.
The AP reports: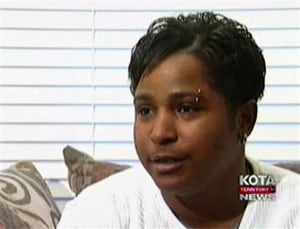 "Newsome was at work at the base at the time and refused to immediately come home and assist the officers in finding her partner, whom she married in Iowa — where gay marriage is legal — in October.
Police officers, who said they spotted the marriage license on the kitchen table through a window of Newsome's home, alerted the base, police Chief Steve Allender said in a statement sent to the AP. The license was relevant to the investigation because it showed both the relationship and residency of the two women, he said."
The ACLU of South Dakota does not feel the information was relevant and have filed a complaint:
"'This information was intentionally turned over because of 'don't ask, don't tell' and to out Jene so that she would lose her military status,' said Robert Doody, executive director of ACLU South Dakota. The ACLU is focusing its complaint on the police department, not the military, and Newsome said she and her attorney have not yet decided on whether to file a lawsuit.
'The 'don't ask, don't tell' piece is important and critical to this, but also it's a police misconduct case,' Doody said."