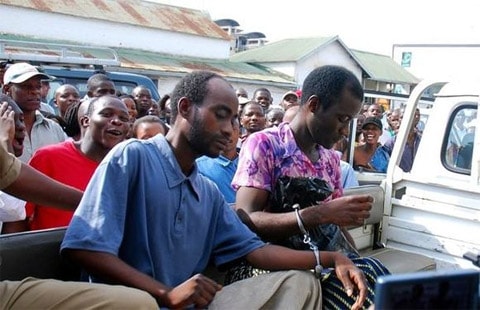 Steven Monjeza and Tiwonge Chimbalanga, the gay couple jailed since January in Malawi for daring to hold an engagement ceremony, will learn their fate on Monday.
The AP reports that religious leaders met this week to discuss homosexuality ahead of the verdict:
"Church leaders say they have met in this fiercely conservative southern African nation to 'understand the phenomenon' of same sex partners days ahead of a court verdict that could send two gay men to jail for up to 14 years.
Bishop Joseph Bvumbwe, head of the Malawi Council of Churches, says the leaders gathered Wednesday in the southern town of Mangochi to discuss homosexuality as an issue 'most Malawians do not understand.'"
Amnesty International has adopted Monjeza and Chimbalanga as "prisoners of conscience" ahead of the verdict: "LGBT human rights group, OutRage!. The group's campaign coordinator, Tatchell, has written to the Director of Amnesty International UK, Kate Allen. The group coordinator Peter Tatchell letter to Ms Allen reads in part: 'We urge Amnesty International to adopt Steven Monjeza and Tiwonge Chimbalanga as Prisoners of Conscience…Everyone is very appreciative of the statement that Amnesty has already issued, which deplores the men's arrest and calls for their release. We are now hoping that Amnesty will go one step further and recognise them as Prisoners of Conscience.'"
You can join in Amnesty's campaign to the Malawi government here.
You can also send letters of support directly to the couple.