The ACLU and Constance McMillen faced off against Itawamba School District officials in court today. School officials said they had already been discussing canceling the prom because of insurance and other issues, the AP reports: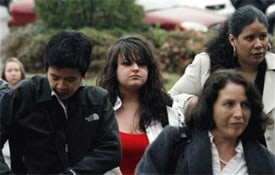 "Schools Superintendent Teresa McNeece and school board Chairman Eddie Hood testified that they had discussed not sponsoring the prom even before McMillen challenged a rule that prohibits same-sex dates. They said they had concerns about liability problems, including possible use of alcohol and drugs at a school-sponsored event.
But they also said they decided to call off the April 2 prom at Itawamba Agricultural High School because McMillen's challenge to the rules had caused disruptions. 'We were being hounded every day. Our students were being hounded,' McNeece said. 'We were having a tough time of any bell-to-bell instruction.'
On cross-examination, school officials did not give specific examples of classroom disruptions."
Responded ACLU attorney Kristy Bennett: "Any disruption came after the actual cancellation of the prom."