The Dutch military has lashed out at retired General John Sheehan and his remarks that the Dutch allowance of gays in the military helped facilitate the Bosnian genocide at Srebrenica in 1995: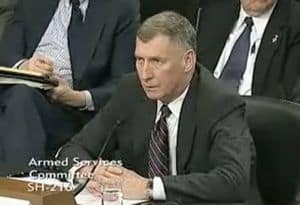 Said Dutch defence ministry spokesman Roger van de Wetering: "It is astonishing that a man of his stature can utter such complete nonsense. The Srebrenica massacre and the involvement of UN soldiers was extensively investigated by the Netherlands, international organisations and the United Nations. Never was there in any way concluded that the sexual orientation of soldiers played a role."
Sheehan said that the former chief of staff of the Dutch army had told him the presence of gays in the military contributed to the fall of Srebrenica.
Sheehan's remarks, if you missed them, are HERE.