Hawaii-based Lt. General Benjamin Mixon wrote a letter to the Stars and Stripes newspaper earlier this month urging troops to call on their elected officials and chain of command and speak out against repealing the policy.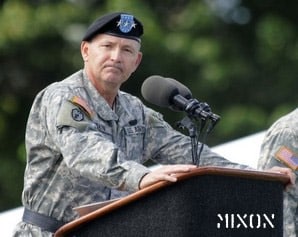 Said Mixon in the letter: "It is often stated that most service members are in favor of repealing the policy. I do not believe that is accurate. I suspect many service members, their families, veterans and citizens are wondering what to do to stop this ill-advised repeal of a policy that has achieved a balance between a citizen's desire to serve and acceptable conduct…Now is the time to write your elected officials and chain of command and express your views. If those of us who are in favor of retaining the current policy do not speak up, there is no chance to retain the current policy."
Defense Secretary Robert Gates and Joint Chiefs Chair Mike Mullen publicly spoke out against Mixon's actions
"Defense Secretary Robert Gates said it was 'inappropriate' for Lt. Gen. Benjamin Mixon, the commander of U.S. Army, Pacific, to have publicly aired his feelings about the president's desire to overturn the current don't ask don't tell policy.
And Adm. Michael Mullen, the chairman of the Joint Chiefs of Staff, issued a rare, strongly worded admonishment.
'As a three-star leader in command, by virtue of that position alone, he has great influence,' Mullen said, adding that when the secretary announced the Pentagon's review, the Army issued written guidelines about it. 'If there's policy direction that someone in uniform disagrees with … the answer is not advocacy, it is in fact to vote with your feet.'"
Mixon's career may be over: "Mullen said that the Army issued specific guidance about dealing with the "Don't Ask, Don't Tell" issue during the review period and that Mixon's case is now 'being addressed' in the Army chain of command.
Mullen dodged a question about whether he is calling for Mixon to resign, saying, 'That's a decision that would certainly be up to him.'
But one Army official said that this highly decorated Army general did nothing wrong and was simply expressing his own opinion. The official said that the February 2010 guidance on dealing with the DADT issue directed Army leaders to continue to implement and execute the law during the review period … and said nothing about keeping your opinions to yourself.
The official said that the Army is not likely to fire Mixon, but that the chairman's comments will force him to resign. He has been a three-star general since Feb. 1, 2008, so Congress will have to approve his retirement and determine whether he will retire as a two-star or three-star general."