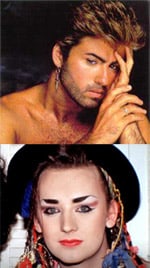 Boy George and George Michael are on speaking terms again after 25 years of silence, the UK's Daily Star tabloid reports: 
"The Culture Club singer slammed the Wham star for failing to come out as a homosexual at the height of their groups' fame in the 1980s.
The attack prompted Michael to label George a 'bitch' – and the pair refused to speak to each other for more than a quarter-of-a-century.
But the Karma Chameleon singer revealed yesterday: 'We have exchanged emails and things are pretty good between us. We've 'spoken' a couple of times and he seems to be doing OK.' … It's a far cry from the 1980s when George, whose openly gay personality had helped Culture Club score No1s including 'Do You Really Want To Hurt Me?' was furious at Michael, now 46, for attracting millions of female fans to
Wham! by promoting himself as a ladies' man.
'People saw me as the benchmark queer while George Michael was passing himself off as a straight stud,' George fumed in 2005. 'In fact, he was loitering in public loos like some pre-war homosexual. It's one thing to keep quiet. It's another to pretend you're someone you're not.'"