Chris Geidner at Law Dork kept a watchful eye on the amendment introduced to the health care reform bill by Senator Robert Bennett (R-UT) that would have halted D.C. same-sex marriages.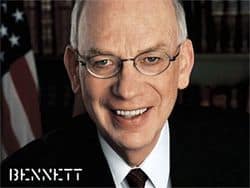 Writes Geidner: "After 1 a.m. this morning, as the Senate considers a slew of Republican amendments — many 'poison pills' — to the House's health care reconciliation 'fixes,' Sen. Bob Bennett (R-UT) had his anti-LGBT, anti-federalist amendment considered.
The amendment would have stopped marriage equality in the District until a popular vote on the matter could be held.
By a little past 1:30 this morning, however, the amendment was defeated. Sen. Sherrod Brown (D-OH), presiding over the late-night session, announced the roll call vote: 36-59.
At least one Republican, Sen. Olympia Snowe (R-ME) was reported by the clerk to have voted no on the amendment."