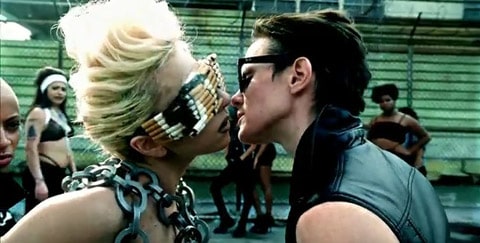 In a radio interview, Lady Gaga took aim at those who criticize her depiction of various sexual orientations and gender identities in the "Telephone" video:
"There are transsexual women and transgender women and suddenly it becomes poisonous and something else because there are some people in this world that believe being gay is a choice. It's not a choice, we're born this way."
In a recent interview with OUT, performance artist and personal trainer Heather Cassils discussed how she landed the role of Gaga's prison girlfriend:
"I got cast because I work as a personal trainer. I run my own independent contracting business, and I run it out of a gay gym in Silver Lake. There's a woman at my gym named Dallas, and she's also kind of an aspiring actress of sorts, and she had been called in to play one of the guards. She called me up from the casting and said they were desperate for bodybuilders, and she told them, 'There's this person at my gym who's not a pro bodybuilder, but she has a really cut physique,' and she suggested I'd be perfect for it. So I went down and auditioned — but I'm not hormones or anything like that — so they ended up casting me as an inmate in the prison scene. They were blocking the scene, and the woman who was blocking for Gaga disappeared, and Gaga came out, and she just kind of instantly called me over, and it just happened like that. She called me over and asked me to portray her girlfriend and said, 'OK, you're going to be my prison girlfriend, and you're going to come to me, and I'd like you to touch me inappropriately.' [Laughs] We just kind of went from there."
In other news, Gaga's ex-boyfriend is suing her: 
"Songwriter and producer Rob Fusari says in a $30 million lawsuit that he helped develop 'guidette' Stefani Germanotta into the superstar she is today — and even came up with her world-famous stage name — but she is now reneging on a business deal that made him 20 percent owner of her company.
Fusari's lawyer, Robert Meloni, who filed suit yesterday in Manhattan Supreme Court, said: 'He discovered her. It was his songs and productions and connections that got her her first deal.' … Fusari said he played the Queen song 'Radio Ga Ga' whenever she arrived at his studio, and 'one day when Fusari addressed a cellphone text to Germanotta under the moniker 'Radio Ga Ga' his cellphone's spell check converted 'Radio' to 'Lady.' Germanotta loved it and 'Lady Gaga' was born.'"
Fusari also says he hooked her up with Interscope records. The two co-wrote her tracks "Paparazzi" and Beautiful, Dirty Rich".