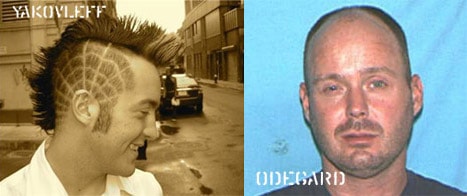 Steven Odegard was sentenced to life in prison with no possibility of parole on Friday for the January 2008 murder of gay Boston hairdresser Daniel Yakovleff:
" Yakovleff had been found stabbed to death in the defendant's apartment early on the morning of Jan. 17, 2008, and Odegard was subsequently charged with the victim's murder after turning himself in to the police in December of that year.
Prosecution's opening statements, heard Monday, Jan. 25, detailed the evening that ended with Yakovleff's gruesome slaying. Suffolk County homicide prosecutor Assistant District Attorney Mark T. Lee described to jurors how the two men had met in the early hours of Jan. 17 at the Boston Eagle, a Tremont St. bar, and decided to return to Odegard's apartment.
'What happened next, plain and simple, is that Dan Yakovleff was murdered,' Lee said. 'I can't tell you exactly what happened. No one can, because a crime this violent is not one you commit in front of witnesses."
Previously…
Suspect Sought in January Murder of Gay Boston Man [tr]