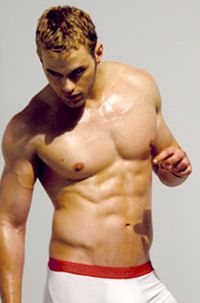 Robert Pattinson wants to have "man boobs" just like Kellan Lutz.

The second openly gay legislator in four months has resigned from Utah's House of Representatives, bringing the number down to just one.

Liz Cheney might be reintroducing a new Red Scare.

Gaymers rejoice: You can now add your sexual orientation to your Xbox Live profile.

So how exactly does one stone a whale to death?

Hank Azaria has smooth nipples.

JFK love letters to his mistress sold at auction for six figures.

Project 1138 launches Website. The organization "is designed to increase public awareness of the 1,138 federal marital benefits and protections denied to same-sex couples as the result of marriage inequality."

Shia Lebeouf is blessed.

Are you ready to see a Green Lantern-clad Ryan Reynolds in 3-D?

Uh-Oh: "Large amounts of a powerful greenhouse gas are bubbling up from a long-frozen seabed north of Siberia, raising fears of far bigger leaks that could stoke global warming."