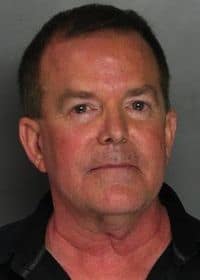 Reports have come in today that Republican California Senator Roy Ashburn has apparently been a regular of the gay night club scene in Sacramento for some time. Plus, just last year he was outed on Facebook (natch) by the out gay mayor of West Sacramento. At the time, Christopher Cabaldon's post on the social networking site:  "It wouldn't bother me so bad to see Roy Ashburn at Badlands with a boy if he didn't have such a bad voting record on gay rights."
Cabaldon remains vocal about the hypocrisy telling a local news station this:
"You can't just live a double life in politics anymore," said Cabaldon. "To live a secret life and at the same time be attacking exactly the same people you are one of, but you are too ashamed to admit, that's the hypocrisy for folks whether you are gay or not.  It's just unacceptable in politics."<
Also, today, The LA Times reports that Ashburn was pulled over by CHP officers after they noticed his car 'making several brake applications without debris or traffic in thepath of the vehicle' and 'straddling' two lanes in the street."
Watch the report in which Cabaldon is interviewed after the jump.
UPDATE: Boy Culture might have found Ashburn's unidentified male passenger.