Back in November I posted that Oklahoma state senator Steve Russell planned to introduce a bill that would exempt the state from having to abide by the recently passed Matthew Shepard Hate Crimes Act on the basis of the 10th Amendment to the U.S. Constitution.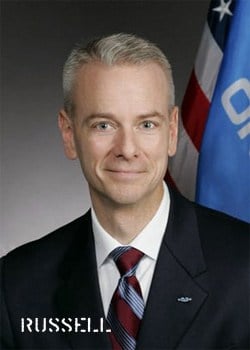 The 10th amendment reads, "The powers not delegated to the United States by the Constitution, nor prohibited by it to the States, are reserved to the States respectively, or to the people."
Said Russell, who is upset that the bill was attached to a Department of Defense bill: "The bill gives the federal government power that was not given to them in the Constitution. I am aware of the supremacy of the federal government over state governments, but the federal requirements are vague enough for us to make actions. We just have to be very careful on how we proceed."
Russell also compared homosexuality to necrophilia.
Russell introduced the proposed amendment yesterday in the Senate, and it passed: "Under the new provisions of Senate Bill 1965, reports that were collected during investigations of possible hate crime that did not end in a conviction would be destroyed or kept by the Oklahoma State Bureau of Investigation.
Russell said the bill is meant to prevent the federal law enforcement officials from taking over a case and applying different standards when local law enforcement has already investigated a case.
Only a few senators questioned Russell about the contents of his proposed amendment.
The measure passed 39-6 and now heads to the House for consideration.
Russell said his bill is meant to protect speech of all kinds."