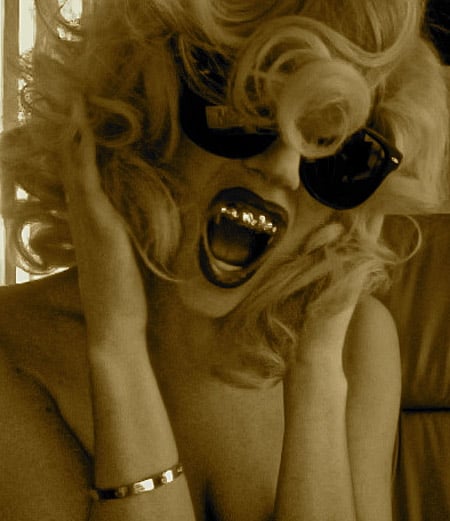 Lady Gaga showed off some new teeth over the weekend, via Twitter: "RUSSIAN ROSE GOLD VAMPIRE GRILLZ
early birthday present from the haus, gravediggaz! i've been begging for these."
She also filed a counter-suit against a former boyfriend who sued her last week for $30 million, claiming that he created her persona.
Douglas Hopper at NPR gushes, Lady Gaga, you make me feel like a teenage boy again. "Gaga, you have taken the reins. You have turned your inner misfit inside out, for the world to gawk and stare at. And just like me in my pierced and platinum days, you relish and thrive on the power of repulsion. You like dancing on the edge, watching the onlookers gasp or turn away with disdain. You are the official embodiment of a 'parent's worst nightmare,' and I love you for it."