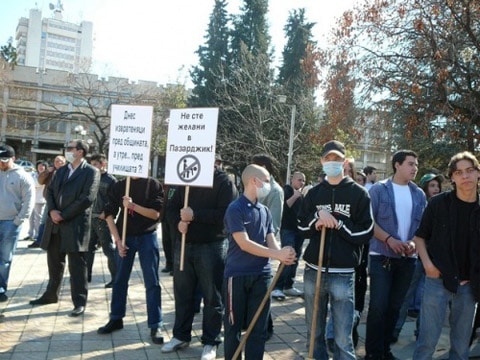 Skinheads in the central Bulgaria town of Pazardzhik attacked a group of six activists who had arrived there from Sofia to protest the city council's ban on displays of homosexuality in public, Novinvite reports:
"The (activists) arranged large banners on which they started writing articles from the Bulgarian Constitution and the UN Human Rights Charter. No local gay rights activists joined them, Darik Radio reported.
However, about 100 local young men most of them with shaved heads and in black clothes staged an anti-rally claiming they had gathered to express their support for the order issued by the City Council.
As several of skin heads members attacked the gay rights activists they were immediately knocked down to the ground and arrested by the policemen guarding the rally, who were led personally by the head of the Pazardzhik Police Directorate, Commissar Stoyan Stoyanov. No-one was hurt during the skirmish. However, the anti-rally protestors shouted offensive slogans directed against the gay rights activists such as 'No one wants you, losers', 'Out of Pazardzhik', 'Go to Uganda, freaks'."