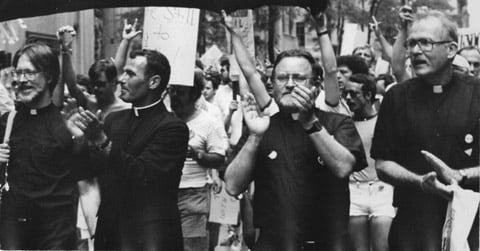 The NYT reports that Robert Carter (right), a Roman Catholic priest who came out in the early 70's before helping found the National Gay and Lesbian Task Force, died last month in the Bronx at the age of 82:
"His death, at a Jesuit health care facility, was confirmed by the Rev. Thomas R. Slon, executive assistant to the provincial of the New York Province of the Society of Jesus.
Father Carter's coming out was a very public one. In October 1973, Dr. Howard J. Brown, a former New York City health services administrator, announced that he was gay and that he was forming a civil rights organization for homosexual men and women. Then called the National Gay Task Force, it later became the National Gay and Lesbian Task Force.
An article about the group in The New York Times said: 'A number of homosexual and lesbian organizations were represented on the board. One member was the Rev. Robert Carter, a Jesuit priest and professor of historical theology.'
Soon afterward he was visited by a subprovincial of the Jesuit order. 'It seems that they were afraid I had had a psychotic break or something,' Father Carter wrote in an unpublished memoir."
Among other accomplishments, Carter also helped found the New York Chapter of Dignity USA, the group I mentioned earlier today which took out the ad in the Colorado newspapers.