The internet is allowing hate speech and groups to flourish, says a new report from the Simon Wiesenthal Center for Tolerance: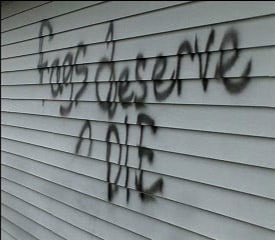 "Social networking sites such as Facebook and Twitter have revolutionized the way people communicate. But, those sites also give racists and terrorists a public platform to spread their hateful messages. 'We've seen an increase of almost 40 percent,' said Wiesenthal Center Associate Dean Rabbi Abraham Cooper. 'We're looking at over 11,500 problematic websites.'
When Timothy McVeigh orchestrated the Oklahoma City bombing in 1995, the Internet was home to only one known hate site.
88-year-old white supremacist James Von Brunn, who shot a security guard at the National Holocaust Museum last year, kept an anti-Semitic website. Authorities say Colleen LaRose, aka "Jihad Jane", used YouTube for her alleged terror activities."
Just recently, David Badash over at The New Civil Rights Movement outlined a number of anti-gay hate sites, which, once pointed out, were hastily removed from Facebook.