JUDICIARY COMMITTEE MEMBERS
Sen. Stewart Greenleaf: (717) 787-6599
Sen. Mary Jo White: (717) 787-9684
Sen. Lisa Boscola: (717) 787-4236
Sen. Patrick Browne: (717) 787-1349
Sen. Jay Costa: (717) 787-7683
Sen. Jane Earll: (717) 787-8927
Sen. Wayne Fontana: (717) 787-5300
Sen. John Gordner: (717) 787-8928 (cosponsor)
Sen. Daylin Leach: (717) 787-5544
Sen. Jane Clare Orie: (717) 787-6538
Sen. Jeffrey Piccola: (717) 787-6801 (cosponsor)
Sen. John Rafferty: (717) 787-1398
Sen. Joseph Scarnati: (717) 787-7084 (cosponsor)
Sen. Michael Stack: (717) 787-9608
The Pennsylvania Senate Judiciary Committee is expected to vote on same-sex marriage legislation today: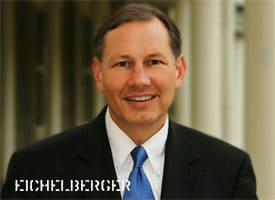 "The legislation, sponsored by Sen. John Eichelberger, R-Blair County, proposes to add these 20 words to the state constitution: "Only a union of one man and one woman shall be valid and recognized as a marriage in this Commonwealth." Previous attempts to advance a constitutional amendment on this topic through both chambers of the Legislature have failed.To amend the constitution, identical bills have to pass the House and Senate in two consecutive legislative sessions before it goes to voters to make the final decision. Supporters of this proposal said a constitutional amendment would prevent a court from overturning the state law that defines marriage as between a man and a woman, as has happened in other states."
The bill was introduced by PA state senator John Eichelberger. You may remember how Eichelberger justified the bill last June. Eichelberger held a radio debate with Senator Daylin Leach, who was sponsoring a bill to legalize same-sex marriage in the state. In the interview, Eichelberger said there's no reason to allow gay couples to marry and said that they're not being punished. In fact, he lauded the fact that gay couples are allowed to exist.
The National Organization for Marriage sent out an alert earlier this week with the phone numbers of all the members of the committee. 
You're welcome to use them too, AFTER THE JUMP…