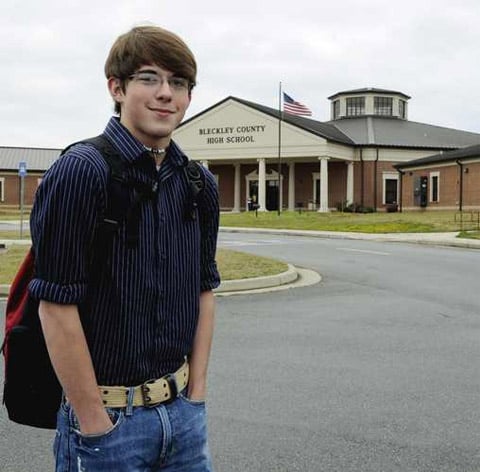 This is pretty awful. Rather than standing behind gay teen Derrick Martin, whose parents kicked him out of the house following his school's decision to allow him to bring his boyfriend (Richard Goodman, pictured below) to prom, a group of students at the school is protesting its decision: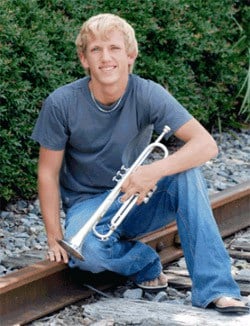 "Bleckley school system officials last week granted senior Derrick Martin permission to take another boy to prom. The decision marked the first decision in the county's history about a same-sex couple attending the prom there. 'We knew Derrick was gay,' said Keith Bowman Jr., a high school senior who showed up at the rally. 'They don't want (Cochran) to be known as a pro gay town.'
Most of the dozen attending the rally said they weren't bothered by Martin being gay or being allowed to attend prom with his partner. But they said the school system's decision has brought too much attention to their small town.
The rally's organizer, Amber Duskin, sent text messages to high school students Wednesday asking them to show up.
The senior said she asked her high school to return her prom ticket money and does not plan to attend because of Martin.' I don't believe in going up there and dancing with gay guys like that,' she said. 'It's also not just him bringing a boy. It was bringing all this attention to it.'"
There has been much support for Martin elsewhere, though, Project Q Atlanta reports:
"The gay Georgia teen who gained attention this week for pushing to bring his boyfriend to the prom only to be kicked out by his parents will be a guest at Friday's concert by the Atlanta Gay Men's Chorus.
Derrick Martin (photo left), an 18-year-old honor student at Bleckley County High School in Cochran, is expected to attend AGMC's 'Georgia on My Mind' concert tonight at Virginia Highland Church, according to chorus Executive Director Keith Fenton. He may even return for one of the Saturday performances, too, Fenton says."
Martin has also reportedly been invited by Ellen DeGeneres to appear on her show.
Martin gave an interview to the Georgia Voice:
"Martin said being kicked out of his home by his parents on Tuesday because of the media attention this story has garnered hasn't dissuaded from being who he is. 'I know they had the right because it's their house. Now I just want to get an apartment and then go to college,' he said.
Martin has a scholarship to Georgia Southern where he will be major in pre-law.
Martin said Tuesday was an average day. He went to school and then to his job with a state tutoring program for at-risk third, fourth, fifth grade students and middle schools students to help them pass the CRCT. When he got home that evening his mother told him to pack his bags and leave. 'So I packed my stuff and left,' he said. 'She said it was disrespectful of me' to interview with a local TV station."