On the heels of his recent unenforceable directive to state agencies that they should not discriminate based on sexual orientation, Governor Bob McDonnell says he finds no need to make that law because that type of discrimination just doesn't happen often enough, the Washington Post reports: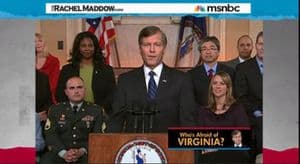 "Breaking with the practice of his Democratic predecessors, McDonnell did not include sexual orientation in an executive order he issued barring discrimination in the state workforce shortly after taking office.
He argued that he could not include protections for gays without authority from the General Assembly, which has repeatedly declined to adopt a law on the issue. But in past interviews, McDonnell has never been clear about whether he supported the General Assembly taking action. He told Post columnist Bob McCartney that he might, in fact, sign such a law if passed.
But asked today on the 'Ask the Governor' program at Richmond's WRVA radio whether he would sign such legislation, he said, 'I don't know that we need it based on the numbers that I've seen.'
He added: 'There really isn't any rampant discrimination on any basis in Virginia. If you're going to have a law, it needs to actually address a real problem.'"