Kennedy: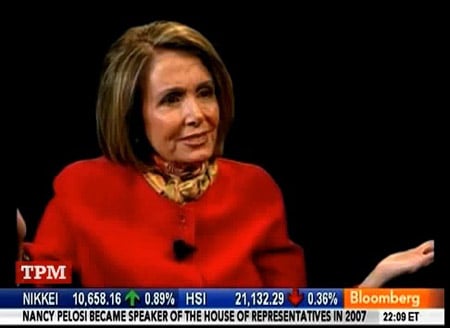 The Washington Post reports that House Speaker Nancy Pelosi was alerted to concerns about former Rep. Eric Massa last October:
"Joe Racalto, Massa's chief of staff, was uneasy that Massa, 50, was living with several young, unmarried male staffers and using sexually explicit language with them, one source said. But what finally prompted him to call Pelosi's director of member services, the source said, was a lunch date that Massa made with a congressional aide in his 20s who worked in the office of Rep. Barney Frank (D-Mass.).According to a person briefed on the call, Racalto was concerned that the lunch followed a pattern by Massa — who is married and has two children — of trying to spend time alone with young gay men with no ostensible work purpose. Racalto, according to this person, also alerted Frank's chief of staff. The sources spoke on the condition of anonymity because of the political sensitivity of the matter."
Pelosi appeared on Bloomberg to discuss Massa. Said Pelosi: "This is a sad case…This is a very sick person. He has been diagnosed with cancer. Perhaps his judgment is impaired because of the ethical issues that have arisen and he is no longer in the Congress. Poor baby. Poor baby. Sometimes we really exagerrate our own importance in a lot of these things."
Meanwhile, Rep. Patrick Kennedy flipped out at the press for covering Eric Massa and not Afghanistan.
Watch both clips, AFTER THE JUMP…