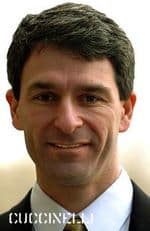 Virginia Attorney General Ken Cuccinelli stands by remarks he made last week which caused outrage and protest across the state of Virginia, the Washington Post reports:
"In some of his first public comments on the issue since his letter last week to the universities sparked an uproar on campuses, Cuccinelli (R) said he continues to believe that the institutions are limited in their ability to adopt such policies without authority from the General Assembly. The legislature has repeatedly declined to put legal protections for gay men and lesbians into Virginia code.
'What I said in my March 4 letter was accurate advice under Virginia law, and it still stands,' Cuccinelli said in brief comments to reporters after addressing lawmakers on an unrelated issue.
Universities, he said, 'don't have any more authority than the General Assembly gives them, which is a similar position as the localities. And until the General Assembly gives them more authority, they're quarantined by what they've got.'"