Angry Dutch activists walked out of a mass at The Sint-Jan church in the city of 's-Hertogenbosch on Sunday to protest the Catholic Church's denial of communion to gays and lesbians.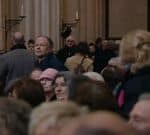 The church had learned of the protest in advance, so it decided not to serve communion, inspiring a mass exodus.
The BBC reports: "This dispute began during Dutch carnival celebrations earlier in February, when the man chosen to be carnival prince in nearby Reusel was refused communion because of his open homosexuality.The refusal offended many in the local community."
Videos of the action, AFTER THE JUMP…