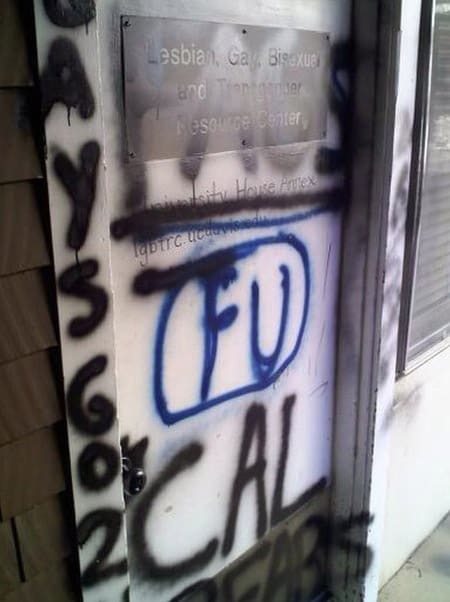 The Lesbian, Gay, Bisexual, Transgender (LGBT) Resource Center at the University of California Davis was hit by homophobic vandals on Friday night. They tagged the entrance to the center with a variety of anti-gay slurs.
In a letter to the campus community, the center explained that they asked the school not to clean it up:
"This vicious hate crime demonstrates the need for community centers like ours to exist in order to offer a safe space on campus and combat the homophobia, discrimination, and hate that is still prevalent within our society.
As a center we wanted not to immediately remove the vandalism in order to ensure that this hate crime does not go unnoticed by the campus community. Facilities and administration offered to clean it up immediately but we wanted to take this opportunity to educate the campus about struggles that our community continues to face. We feel it is easier to erase physical representations of violence than to heal from the ongoing impacts of this hatred. Erasing it makes it possible to avoid believing these things happen on our campus. We want to work towards a healing resolution."
CBS 13 notes that it's the latest in a string of hate incidents on UC campuses: "A Jewish UC Davis student found a swastika carved into her dorm room door late last week, and a series of racially-charged incidents — started by an off-campus party mocking urban stereotypes — have sparked an outcry at UC San Diego."
UC Davis officials are planning a town hall meeting today to address the incident.