The "baby killer" shout comes at :07 seconds.
CNN:
A Joe Wilson "you lie" moment happened on the House floor at about 11pm last night as a teabagger lawmaker shouted "baby killer" at Rep. Bart Stupak (D-MI) after the bill's passage, Politico reports: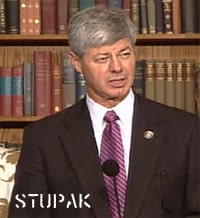 "Stupak – a leader among anti-abortion Democrats – was speaking at the time in opposition to a Republican motion to recommit that would have added the text of the so-called Stupak Amendment to the Democrats' reconciliation bill.Reporters in the House chamber said the 'baby killer' shout seemed to come from a group of lawmakers that included Rep. John Campbell (R-Calif.), but he said it wasn't him. 'I don't think it's appropriate at all,' Campbell told POLITICO.Campbell said the voice came from the floor – from someone who was behind him and to the left. 'Some people know who it is but won't say," he added.'"
Rep. Joe Barton (R-TX) and Rep. David Obey (D-WI) both say they know who shouted it but are too cowardly to expose the coward.
Watch, AFTER THE JUMP…