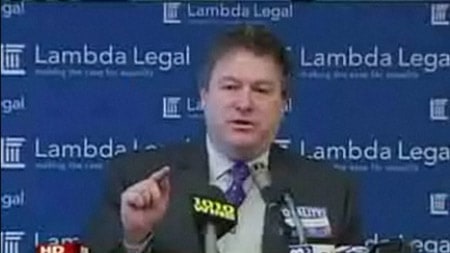 Lambda Legal filed a motion in New Jersey yesterday seeking marriage equality on behalf of six couples and the surviving partner of a seventh: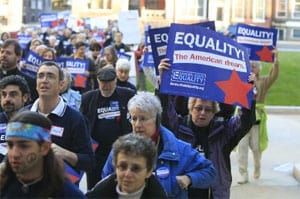 "'The New Jersey Supreme Court ordered equality for same-sex couples when it decided our marriage lawsuit in 2006, and the legislature has failed to meet that crystal-clear obligation,' said Lambda Legal Deputy Legal Director Hayley Gorenberg. 'Civil unions are a failed legislative experiment in providing equality—marriage equality is the only solution.'"
The plaintiffs are those in the original Lewis v. Harris lawsuit:
"Lambda Legal filed Lewis v. Harris in June 2002 on behalf of seven same-sex couples seeking the right to marry. The New Jersey Supreme Court issued its ruling on October 25, 2006, unanimously agreeing that it is unconstitutional to give same-sex couples lesser rights than different-sex couples, but leaving the remedy to reach equality up to the legislature. In January 2007 the New Jersey Legislature hastily enacted a civil union law. In December 2008 the Civil Union Review Commission, appointed by the legislature, issued its report documenting how civil unions fall short of the court-mandated equality for same-sex couples…In January 2010, following a hard-fought campaign led by Garden State Equality, the New Jersey Senate voted on and failed to pass a marriage equality law."
Announcement and interviews, AFTER THE JUMP…