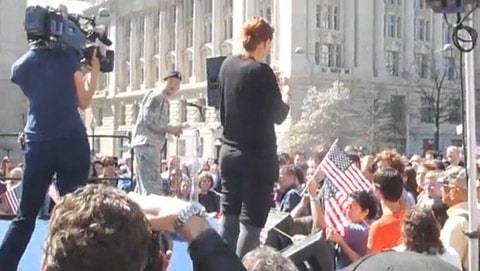 Some unusual insight (for the MSM) in CBS News' coverage of yesterday's "Don't Ask, Don't Tell" activities:
"According to reports, Choi crashed the rally, hosted by the gay rights group the Human Rights Campaign and comedian Kathy Griffin, and asked attendees to join him in a march to the White House, turning the event into more of a protest.Human Rights Campaign President Joe Solmonese did not march to the White House, in an illustration of the split in the gay rights movement between establishment organizations like the HRC, which generally support the Obama administration, and activists like Choi, who are pushing more aggressively for action."
One gay veteran, writing in the Huffington Post, says Choi "jumped the shark" yesterday:
"Let me be quite clear about one thing: what Dan Choi did yesterday was of questionable sincerity, most likely intricately plotted as to gain the most amount of press and attention, and undoubtedly will dominate the conversation going into the next Don't Ask, Don't Tell news cycle. It's big, over the top, political theater of the type that is destined to get tongues wagging about the issue once again and will definitely secure Lt. Choi's place as a major figure in gay activism. What it won't secure, however, is the title and rank that his entire public career thus far has been about retaining, which is why the behavior is simultaneously inspiring and baffling. There are some severely mixed signals here that need to be addressed."
Watch AmericaBlog's full video of Choi's speech during which Kathy Griffin says she'll go with him to the White House (she didn't), AFTER THE JUMP…